Biography
Jerry was born into a musical household in Minnesota. He was given a clarinet as a small boy and immediately taught himself to play the song 'Springtime in the Rockies'. He was hooked. At age 12, he started playing his first gigs – polka bands, dance bands, rock bands, etc. He attended McPhail College of Music in Minneapolis, studying with saxophone master, Ruben Haugen, "one of the most influential teaching artists in Minnesota music history"*.
Since that time he has moved around the country including a period in New York soaking up some of the legendary masters such as Coltrane, Mulligan, Diz, Getz and Monk while working at the Village Gate as a waiter and maitre d'. He played with Jerry Novak's band when they opened three nights for The Doors in New York and later for Blood, Sweat and Tears. He was able to take lessons from Booker Ervin.
He settled in the San Francisco Bay Area in the late 60's and earned a teaching credential at San Francisco State College. He taught all ages in the public schools for the next 25 years.
Now retired from teaching, he plays with many Bay Area bands. Jerry loves to play his recently acquired Couf baritone sax in addition to tenor, soprano, alto, clarinet, and flute. He is excited about advancing several projects including the Pacific Jazz Connection, The Reunion Band, and, most recently, the Sharman Duran – Jerry Logas Experience.
*Greg Keel, Thursday, 12 October 2006, http://www.jazzpolice.com/content/view/6423/53/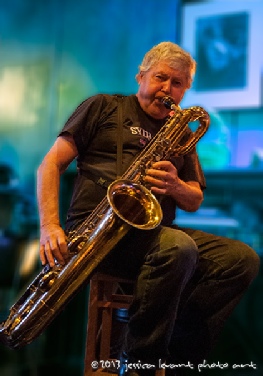 Many thanks to Jessica Levant for use of this photo.any thanks to Jessica L